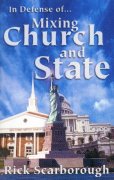 In Defense of...
Mixing Church and State
"A Call to Stand Up, Speak Up, and Refuse to Give Up" by Rick Scarborough


Dedicated to Marian Ward, a modern day Esther. Vision America advocates Christians standing up and doing what is right in society.

It all depends on
What "is" is!
by Rick Scarborough

To request these booklets simply make your contribution and choose "Booklets" as your appreciation gift. Your gifts are tax deductible and greatly appreciated.
Click Here to make a secure online contribution.

You may also call Vision America toll free at 1-866-522-5582 to contribute.