You are currently viewing: Sermons and Speaking Engagements
Sermons and Speaking Engagements
Pictures from recent Vision America Events:
Dr. Scarborough joined Alabama Chief Justice Roy Moore and others for the Rally for Marriage on the steps of the Texas Capitol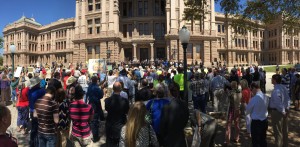 Dr.Rick Scarborough speaking at "The Awakening" event in Florida on 3/16/15
Pastors For Arkansas Events:
Dr. Scarborough Speaking to to 85 pastors and leaders at First Baptist Church, Orlando on September 23, 2014. Other speakers included General Jerry Boykin and former NFL running back Craig James.
Recent Conference Calls
Listen to the Defend Marriage National Call with Dr. Rick Scarborough, AL Supreme Court Chief Justice Roy Moore, Mat Staver, Liberty Counsel and others - 3/26/15
Listen to Dr. Dobson, Mat Staver, Janet Porter and Rick Scarborough discuss the upcoming Supreme Court decision on Marriage and what the Church can do - 3/10/15
Listen to the Restrain the Judges Conference Call with Dr. James Dobson - 2/25/15
Watch Tony Perkins, Rick Scarborough and others at the Star Spangled Sunday event hosted by the Family Research Council.
Watch Dr. Rick Scarborough preaching at Castle Hills Baptist Church in San Antonio TX
Listen to Dr. Rick Scarborough, Mike Huckabee and Tony Perkins at a town hall meeting on September 11th 2014
The Church…The Gift That Keeps On Giving - 01.05.2014 from CHFBC on Vimeo.
Sermon Archive
Politics, Power and People of Faith
Joyful People Celebrate Life Everyday
Stinking Thinking can Result in a Rotten Life
Revival for Survival
The Power of Praise
Why Bad Things Happen to Good People
Why Bad Things Happen to Good People pt 2
Three Keys to a Successful Home
Faith
What Does It Mean To Fear God pt2
Prayer is the Pathway to God's Throne
Tiger Woods the High Cost of Living
Time is your most precious commodity
15 Keys to Success in Life and Ministry
Giving Starts With Us and Produces a Life of Significance
Faith… The Coin of the Heavenly Realm
God's Economic Stimulus Plan
Giving Starts with us
Giving
Posted by vaadmin on Mar 1, 2017 in Vision America News | Comments Off on Trump Invites Families Hurt by Illegal Immigrants for His Speech to Congress
Caleb Ecarma / February 28, 2017 The guests President Donald Trump invited to hear his Tuesday night address to a joint session of Congress will represent four issues: border security, school choice, small businesses, and Justice Antonin Scalia's Supreme Court …
read more