The U.S. and U.N. Have Abandoned Christian Refugees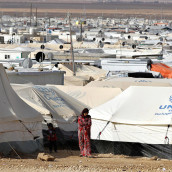 WSJ.com - By Nina Shea Oct. 6, 2016 7:19 p.m. ET
Six months ago, Secretary of State John Kerry officially designated Islamic State as "responsible for genocide" against Christians, Yazidis and other vulnerable groups in areas under ISIS control in Syria and Iraq. So why has the Obama administration entrusted the survival of these people—and so much valuable American aid—to a troubled office at the United Nations, which, like its parent organization, has never even acknowledged that the genocide exists?
The State Department says it is helping religious minorities who…
have fled, along with millions of other displaced Syrians and Iraqis, primarily through the U.N. America has sent over half of $5.6 billion in humanitarian aid earmarked for Syrians since 2012 to the U.N.
Yet the U.N.'s lead agency for aiding refugees, the Office of the High Commissioner for Refugees (UNHCR), marginalizes Christians and others targeted by ISIS for eradication in two critical programs: refugee housing in the region and Syrian refugee-resettlement abroad.
For instance, the Obama administration's expanded refugee program for Syria depends on refugee referrals from the UNHCR. Yet Syria's genocide survivors have been consistently underrepresented. State's database shows that of 12,587 Syrian refugees admitted to the U.S. in the fiscal year that ended Sept. 30, only 68 were Christians and 24 were members of the Yazidi sect. That means 0.5% were Christians, though they have long accounted for 10% of Syria's population. In 2015, among 1,682 Syrians admitted, there were 30 Christians and no Yazidis.
Asked about these numbers at a Sept. 28 Senate hearing, Deputy Assistant Secretary of State Simon Henshaw asserted that only 1% of Syria's registered refugees are Christians. How to square that with the estimate that half a million Syrian Christians—a quarter of that community—have fled, as Syriac Catholic Patriarch Younan warned in August.
Click here to read more.