U.S. religious freedom to be honored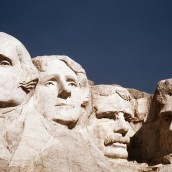 As a colonial-era Virginia law upholding religious freedom reaches its 230th anniversary this weekend, traditional values groups are urging Americans to stand up for their rights to live out their beliefs in peace.
Federal and state laws like the Religious Freedom Restoration Act (RFRA) are based on the words of founding fathers Thomas Jefferson and James Madison, the Becket Fund for Religious Liberty said Thursday.
These federal and state laws — which protect people against substantial burdens on their religious freedom — play "an essential role in protecting the religious minorities of our time," said Hannah Smith, senior counsel of the Becket Fund for Religious Liberty. The organization has created an online educational source for information on the laws called RFRA Central.
On Saturday, President Obama is scheduled to release a proclamation honoring National Religious Freedom Day.
Click here to read more.