Campus Protesters Try to Silence Conservative Speaker, Demand College President's Resignation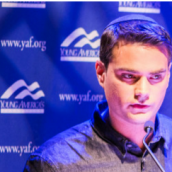 Natalie Johnson / @nataliejohnsonn / 
Student protesters swarmed California State University, Los Angeles to barricade the entrances of a theater where conservative commentator Ben Shapiro was set to deliver a speech about censorship and diversity on college campuses.
Led primarily by the school's Black Student Union and Black Lives Matter chapter, the hundreds of demonstrators, including some professors, poured into the Student Union building Thursday afternoon to block other students from attending the event.
Many in the dense crowd of protesters shoved and shouted at attendees who tried slipping through the doors.
Members of the conservative Young America's Foundation, host of the eventcalled "When Diversity Becomes a Problem," said they were forced to sneak groups of four to five in the back door leading directly to the theater to avoid catching the attention of protesters who hadn't yet obstructed the last entrance.
Click here to read more.