Family Seeks Legal Relief so Son can Read Bible During Recess
Monday, September 26, 2005
By: Jim Brown - Agape Press

Issue Goes Before Federal Court in Tennessee

A federal court has been asked to order a Knoxville, Tennessee, elementary school to stop prohibiting a ten-year-old student from reading his Bible during recess.

Luke Whitson and his parents have filed a motion for preliminary injunction against Knox County School officials, who allegedly threatened to punish the boy for reading his Bible during recess at Karns Elementary School. The district claims the Bible reading jeopardizes student safety and that, because recess is not "free time," they can prohibit Bible reading during that time.

But Whitson's attorney, Nate Kellum with the Alliance Defense Fund, says school officials are wrong to claim reading the Bible on a school playground violates the so-called "separation of church and state."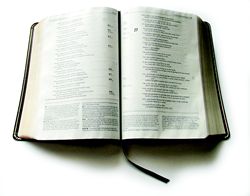 "What Luke wants to do only involves his speech. It does not involve government speech; there are no school officials that are involved. This was student-initiated; Luke and his friends initiated this. This is student-led; only Luke and his friends wanted to do this," the attorney explains. "So there's absolutely no concerns of a violation of the Establishment Clause -- yet this is what the school is operating under."
Kellum contends that school officials have a "fundamental misunderstanding" of the Constitution, which he points out prohibits the wholesale banning of Bible during recess -- not the reading of it. Young Luke, he says, merely wants the school to recognize his free-speech rights.
"We need relief," Kellum states. "Luke is in the fifth grade at the elementary school, which represents the last year that Luke will have at this school, and he yearns to be able to read the Bible during recess. There are other kids that are reading their 'American Girl Doll' magazines, yet others that are reading their 'Harry Potter' books. Luke wants to get in the corner of the playground and read his Bible."
Whitson and his parents filed a federal lawsuit -- Whitson v. Knox County Board of Education -- against the Knox County School District in June. They are seeking a preliminary injunction so the ten-year-old can read the Bible with classmates on the playground as the case progresses.